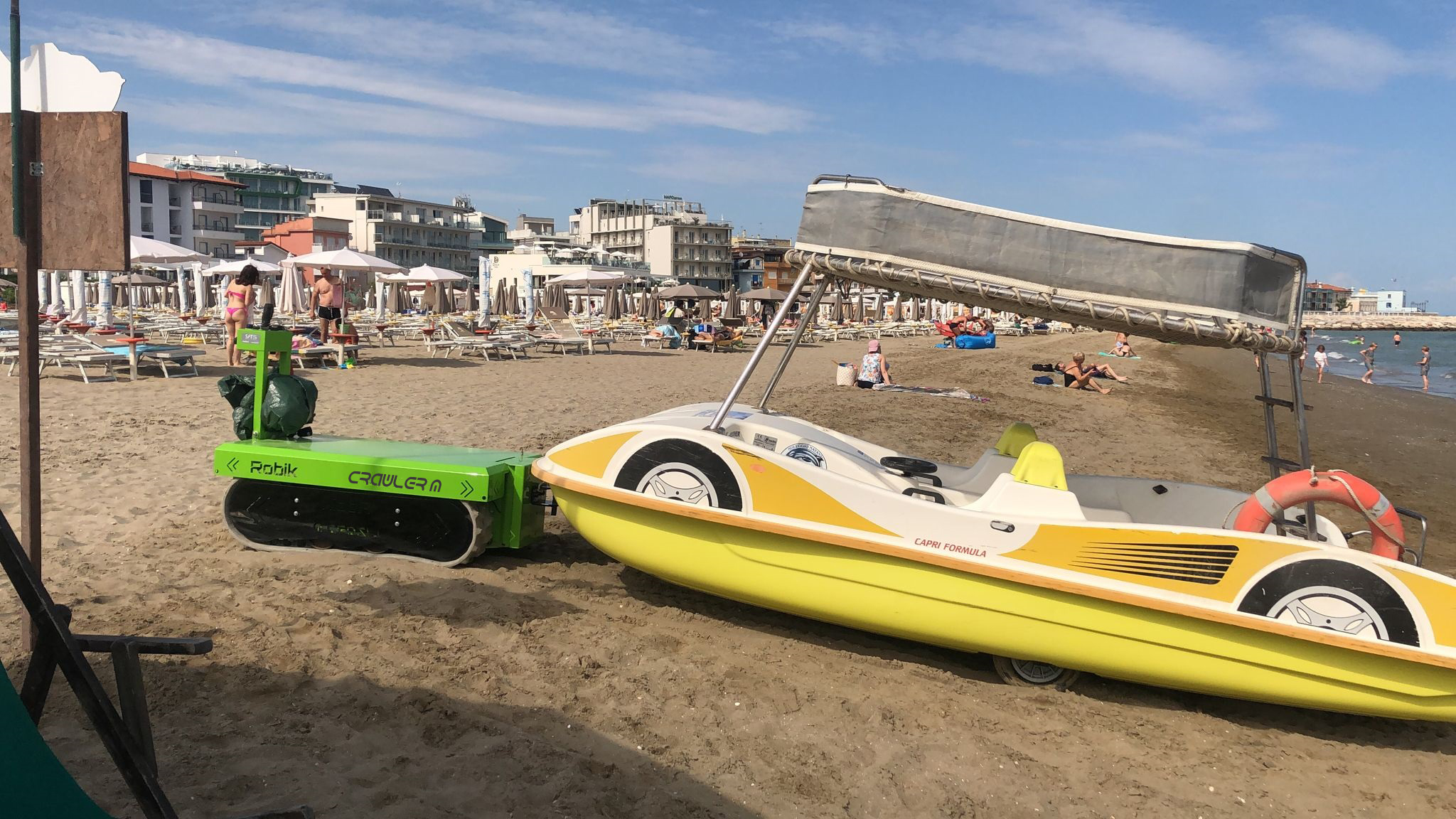 Robik electric crawler is now in Italian bathing beaches
Powered by powerful, high-efficiency electric motors, the Robik Crawler M electric tracked vehicle is the new electric handling solution, in two versions with radio-controlled guidance or joystick, designed as an electric tracked dock leveler, for towing trailers on difficult surfaces such as the sand, gravel and mud.
Different applications of the electric crawler Robik Crawler:
In the nautical sector it is used in bathing beaches to move and tow loads such as pedal boats, beach equipment (deck chairs and sun loungers), street food trucks or to transport beverage and food. Robik Crawler is also used to move boats on difficult terrain within shipyards, docks or garages.
In the industrial sector, it is used inside or outside industrial logistics areas where the terrain is often treacherous such as floor grids, dirt roads and mud.
Robik Crawler M is a quiet, zero-emission machine, but that alone is not enough. Another goal of Sates is in fact to convey excellent sensations to the user of the Robik electric handlers. Robik Crawler M has thus been developed with high levels of comfort, power, control and precision that will exceed the expectations of the most demanding professional operators.
Robik Crawler M has dual functionality, it can be used as:
TOW TRACTOR: its special structure gives it great towing capacity. Particular study was dedicated to the positioning of the moving parts, this allowed us not to exceed 80 cm in width, an indispensable condition for passing through the doors.
DUMPER TRANSPORTER: can carry a maximum load of about 300 kg above the surface, since it can vary depending on the presence or absence of slopes.